Department Of Microbiology
The department of Microbiology started with the inception of Government Manjeri Medical College in the year 2013.It is located at 3rd floor of the Old Academic Block.
The Major role of the department is primarily laboratory diagnosis of Infectious diseases and academic teaching. The department is also known for its work on Diphtheria and of late the role played in recent Nipah outbreak. Microbiology department started Molecular Diagnostic Laboratory for Covid – 19 testing on 21st April 2020. Appreciation awards were received from the State Government , IDSP and IMA for activities rendered by the Department of Microbiology, GMC Manjeri during the NIPAH outbreak. Microbiology department started Molecular Diagnostic Laboratory for Covid – 19 testing on 21st April 2020
Major roles:
Patient care related diagnostic service
Academic teaching
Infection control surveillance
Research projects
ICTC
Molecular diagnostic laboratory for Covid -19 testing service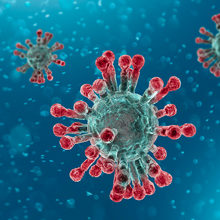 Patient care related diagnostic service:
Bacteriology – Laboratory diagnostic services offered
Culture, Identification of pathogens and Antimicrobial susceptibility testing of isolates (Specimens tested – Blood, Bone marrow, CSF, tissues, body fluids, urine, sputum & faeces)
Antimicrobial susceptibility testing – Disc diffusion method and MIC detection
2. Mycology – Microscopy & Culture
3. Mycobacteriology – Smear & Culture , TRUENAT for Mycobacterium tuberculosis started on 7.4.2021
4. Serology & Immunology
Tube Agglutination test- Widal, Weil-Felix test, Cold agglutination test (Non specific test for Mycoplasma infections)
Rapid diagnostic tests – RPR, HBsAg card test
TPHA – to diagnose syphilis
ELISA tests – Hepatitis A, Hepatitis B, Hepatitis C, Lepto IgM, Dengue NS1Antigen, Dengue IgM, Chikungunya antibody tests
Antibody to Hepatitis B and IgM Scrub ELISA
RA, ASO,ANA
5 .Molecular diagnostic laboratory
RT-PCR for Covid-19, TRUENAT for Covid-19
Testing and reporting of Samples received from various health Centers in the district
Testing capacity – 2000 samples/day
6. Services rendered in ICTC (Integrated Counseling and Testing Centre) :
Pre test counseling, Testing for HIV and Post test counseling
7.Surveillance
Potable water surveillance
Environmental sample surveillance
Microbiological sterility testing of blood bags, Solutions and Sterilizers .
  Academic  Teaching
Theory classes,
Practical classes
Seminar, Group discussions, Symposium and Projects on applied clinical Microbiology for MBBS students of 3rd, 4th & 5th Semesters.
Conduct of CME and Medical Education Programmes conducted
Faculty Training Programme On Current trends in Infection Control Organized in collaboration with Medical Education Unit GMC Manjeri .
Orientation programme for interns organized in collaboration with Medical Education Unit.
Workshop on Anti rabies prophylaxis – in association with Department of Community Medicine
4. Observed World Antibiotic Awareness Week (13.11.2017 to 19.11.17) in collaboration with Department of Pharmacology. Conducted awareness classes to Medical students and faculty of various departments including Nursing staff and other HCW staff.

Hospital Infection Control Programme
Routine rounds for surveillance purpose and outbreak control activities. Training ground for Infection control practices for Medical Officers faculty and health care workers of Govt. Medical College Manjeri and also other health Centers in the District. . Conduct of frequent trainings and classes for different health care groups separately.
Outreach Programmes
Outbreak investigation and control programmes in collaboration with Community Medicine Department. During NIPAH outbreak, training and classes were given to all staff of GMC Manjeri, Medical officers and other HCW staff from peripheral Health department and Private hospitals and Private Medical Colleges of Malappuram District. Major Laboratory in Malappuram district for Covid-19 testing

ICTC (Integrated Counseling and Testing Centre) for HIV –
Started functioning since 2004 September.
Ongoing Research Works
A multi centre prospective observational study to assess the clinical profile of dengue and identify the predictors related to mortality and disease severity.Dr.Mridul Kumar, Associate Professor of Medicine, Dr.Anitha moorkoth,Professor of Microbiology, Dr.Pushpa Kizhakkekarammel, Assoc.Professor of Microbiology, Dr.Rajesh Assistant Professor of paediatrics.
Immune Response to Hepatitis B vaccine among vaccinated Health care workers in a Tertiary care Hospital in North Kerala - Dr Anitha P.M, (Professor) Dr Pushpa.K (Associate professor)
SARS CoV-2 Antibody response among infected Health care workers in a tertiary care Hospital - Dr Anitha P.M, (Professor) Dr Pushpa.K (Associate professor)
Comparison of Truenat with RT-PCR as a diagnostic tool for Covid -19 - Dr Jasmine K.A(Assistant Professsor), Dr Anitha PM(Professor)
Role of Chest Xray in assisting the diagnosis of symptomatic RT-PCR negative Covid-19 suspects admitted in a Covid care unit- Dr Rejitha K, (Assistant Professsor in Microbiology), Dr Neha (Radiology)
Antibody responses to SARS CoV-2 in health care workers involved in Covid-19 swab duties- Dr. Suma(ENT) , Dayal(Psychiatry) , Dr. Anitha P.M, (Professor of Microbiology)
Clinical, laboratory and radiological characteristics of severe and critically ill covid 19 patients admitted in icu in a tertiary care hospital-Dr Nizar K K(Medicine) Dr NikhilVinod(Medicine), Dr Rejitha K(Assistant Professsor in Microbiology)
Treatment modalities and outcome of severe and critically ill COVID 19 patients admitted in ICU in a tertiary care hospital- Dr Nizar K K(Medicine) Dr NikhilVinod(Medicine), Dr Rejitha K(Assistant Professsor in Microbiology)
COVID 19 S-glycoprotein Antibody response among health care workers vaccinated with Recombinant Adenovirus vector vaccine at a Tertiary care centre in Kerala- Dr Ardra R Menon(Assistant Professsor in Microbiology), Dr Sujina CM(Assistant Professsor in Community medicine)